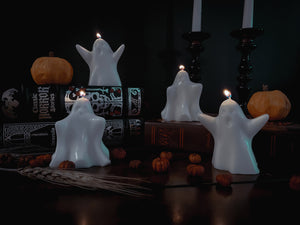 Votive Ghosts
You will want these cuties all over your haunted house! These little spooks come in pairs, and you can choose from a couple of autumn scents. 
Shop Now
---
MIDNIGHT MANOR COLLECTION
HORROR MOVIES & CHILL
Get the corn popping and turn out the lights. It's time to snuggle up with your favorite horror flicks!
Shop Now
---
GET FICTIONAL
Stories take us beyond our own reality, throwing us into adventures, romances, thrilling rides, or spine-tingling horrors. The characters come to life within us, thriving on our emotions, allowing us to live a million different lives. As story lovers, our greatest desire is to be transported to our favorite fictions again and again, and that is the goal of Get Fictional. The sense of smell is a powerful thing, and it goes hand in hand with memories and emotions, so we strive to bring those fictional worlds to light with our soy candles. All you have to do is strike a match.